I found these really cute bracelets that I thought you would like!  All of them are under $2.00 and most of them have FREE Shipping!  So cool, right?  Go check them out below:
| | | | |
| --- | --- | --- | --- |
| | Leather Wrap Bracelet | | Beaded Bracelet |
| | Vintage Deer Bracelet | | Feather Bracelet |
| | Woven Bracelet | | Leather Sunflower Bracelet |
| | Cross Bracelet | | Peacock Bracelet |
| | Woven Bracelet | | Vintage Ruby Bracelet |
Share and Enjoy
We are proud to be joining Fused Life and Coupon Spice in this amazing giveaway for an incredible cause!  Running to Rescue is a 5K race and family run brought to you by Prize 31 that offers awareness for Human Trafficking.  The event will benefit: The A21 Campaign, Voice of Hope and The Daughter Project.
You can give a TAX DEDUCTIBLE gift to this great cause HERE!
Now, for the GIVEAWAY!!  I'm excited to bring you this giveaway for the
MagicBullet® NutriBullet™
Nutribullet™12-piece blending/juicing system let's you easily chop, shred and dice any food. Exclusive Cyclonic Action along with the included extractor blade generates the power to break down and emulsify foods for maximum nutrient extraction.
·

         

Nutribullet™ has everything you need to start creating delicious and nutrient-rich drinks and dishes
·

         

Breaks down even the toughest foods
·

         

12-piece set includes: extractor blade, milling blade, power base, 24-oz. tall cup, short cup, handled comfort lip ring, handled short cup, comfort lip ring, two stay-fresh resealable lids, pocket nutritionist and user guide/recipe book
·

         

Powerful 600 watt motor
·

         

Measures 5″ L x 5″ W x 14″ H
·

         

1-year limited manufacturer's warranty
Enter via the Rafflecopter below and GOOD LUCK!!
Share and Enjoy
Have you ever tried to Roast Baby Pumpkin Seeds?  My husband and kids really love pumpkin seeds, so I thought I would give these a shot.  They really enjoyed my Sugar-Glazed Pumpkin Seeds, too!  I bought some baby pumpkins to try out roasted pumpkin recipes that I found.  So yummy! 
As I was cleaning the pumpkins… I noticed that they had a HUGE number of seeds in them.  I really wasn't expecting that many seeds in such a small little pumpkin, but I was glad to see them.  I did a simple salted roast, and they came out perfect!  Here's how you can get your perfect roasted pumpkin seeds:
First, make sure you clean all of the pulp from around your pumpkin seeds.  The easiest way that I have found is to really get your hands dirty!  Take a small handful of seeds, and squish the pulp through your fingers… allowing the seeds to remain in your hands!  At first, I thought it was a little yucky, but it wasn't too bad once I got used to it.  My kids LOVED sorting the pumpkin seeds, so you can make it a family event.  Lol
Once you have your pumpkin seeds separated, give them a quick spin through a strainer and then place in a medium-sized pot.  Fill the water at least an inch above your seeds.  Add a generous amount of salt and bring to a boil.  Simmer for about 10 minutes and drain.  Now, you can either let your seeds dry on their own, or blot them with a paper towel.  They do not have to be 100% dry… just not dripping wet.
Preheat your oven to 425 degrees and place your pumpkin seeds on a baking sheet.  Lightly drizzle with olive oil or lightly mist with olive oil spray.  Sprinkle salt generously over the top of you seeds and roast for 10-15 minutes.  That's it!  It's that easy to have super yummy roasted baby pumpkin seeds! 
These seeds turned out with a crispier shell and a slightly harder inside than the larger pumpkin seeds.  You could probably get the same crispy result by cooking larger seeds a little bit longer.  Just be careful not to burn the inside.  Oh – and if you let them cool a little bit before you eat them… the shells will crisp even more!  So good!  How do you like your pumpkin seeds?  Check out my sugar-glazed pumpkin seed recipe here!
Share and Enjoy
Welcome to the Valentines Day Dinner Giveaway! Hosted by Bay Area Mommy and sponsored by California Pizza Kitchen!
Get a chance to win a Gift Certificate for a dinner for 2 (valued at $60) from CPK!
Giveaway ends February 8, 2014 at 11:59pm EST. Open to US residents only. Void where prohibited. No Purchase Necessary. To enter, use the GiveawayTools form below. Good luck!
Coupon Spice was not compensated for this post and is not responsible for prize fulfillment. All opinions are my own.
Share and Enjoy
Ronzoni Gluten Free Pasta
Review and Giveaway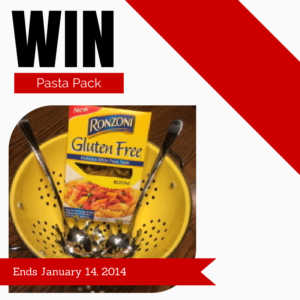 Ronzoni® Gluten Free Pasta is the perfect option for eating gluten-free and not wanting to give up that great, white pasta taste and texture!
Ronzoni wants you to see how great their pasta is too! They are offering one reader a Ronzoni Gluten Free Goodness Pasta Kit!
Ronzoni Gluten Free Goodness Pasta Kit includes:
One Lemon Enamel Colander
One box of Ronzoni Gluten Free Pasta
One Ronzoni Gluten Free Pasta recipe card
Two Pasta Serving Utensils
Giveaway is open to US only and ends Tuesday at 11:59 PM EST
Enter on the Rafflecopter below:
Share and Enjoy