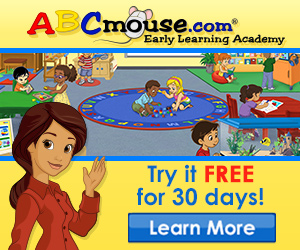 Ok, so I HAVE to tell you how much my kids LOVE ABCmouse.com  They have been using the program for about a month now and they just can't stop playing!  This is an educational program and the best part is that it is FREE for the first month!  Then, after that… it is only $7.95 per month and that includes up to THREE kids!  Click the image above to sign up for your FREE month!
Here is a screenshot of the map from my kid's account.  This shows all of the different places that the kids can go. 
They can go to the classroom to learn, they can go to the store to buy items using the tickets they earned from activities, or they can go to their room.
My kids love the ticket reward system that the program offers.  They receive tickets for every activity that they complete.  Then, they can go shopping at the store to buy stuff for their room!  My daughter seems to be a little bit of a shop-a-holic.  I blame her grandmother for that one!  Here is her room FULL of stuff:
Haha!  My son's room is a little more manageable.  He saved up a good portion of his tickets so that he could buy his pet dragon.  LOL  Here is his room:

I think that your kids will like ABCmouse.com just as much as mine do, but if they don't… you can always cancel anytime within the first month and you won't get charged…. EVER! 
"My kids can't get enough!" Get more than 2,000 fun and educational activities on ABCmouse.com for under $8/mo. Click Here!